Wednesday in politics and beyond
"This is worse than plagiarism," concludes VICE's Samuel Oakford of Gawker's exposé on at least one instance of transactional journalism brokered between Marc Ambinder (who was with The Atlantic at the time) and Hillary Clinton's team (at nearly 5,000 shares right now). "Gross and terrifying: This is how campaigns operate behind the scenes to get the very WORDING they want in stories," reacts Nigel Duara at the LA Times. That requested wording, by the way, was calling a Clinton speech as "muscular," among other things, in return for faster access to a transcript. "The true tragedy here is that muscular is a really, really terrible adjective," points out Dana Liebelson at the Huffington Post. "This is the kind of journalistic crap that gives legitimate standing to complaints about the 'liberal media,'" argues Jacob Carpenter with Naples Daily News. Still, HuffPo's Michael Calderone found something to forgive: "Journalists rarely own up to transactional dealings with govt sources. Here's @marcambinder ."
In other political news, Vox calls last night's Trump win a terrifying moment in American politics. "This is the harshest thing I've ever written about a major presidential candidate. But it's deserved," insists Ezra Klein there. Meanwhile, here's how a debate misstep took down Marco Rubio in New Hampshire. "Rubio had no idea just how badly he'd done on stage during Saturday's debate -- until he scrolled through Twitter," details NYT's Michael Barbaro. And Michelle Alexander has scathing words for Hillary Clinton, whom she says doesn't deserve black people's votes. But "Michelle did not endorse Sanders! Read to end," cautions The Nation's Richard Kim.
Question of the day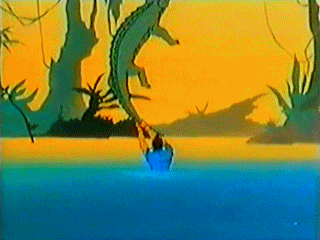 Our last question asked: A Florida man faces charges of assault with a deadly weapon after he threw what into a Wendy's? That would be a gator. A real, life gator.
Congrats to Amy B. Wang of The Arizona Republic for being the very first to get that right! Honorable mentions go out to these fine folks for answering correctly, as well: Hiram Reisner, Jeffrey Dvorkin (who jokes the gator "may have ended up in the next round of burgers" ... actually, he was collected and released by a game warden, but we get you!), Maureen MacGregor, Craig Pittman, Mark Poepsel, John Wall (who quips "The restaurant didn't serve it because it has no tastes like chicken item"),Whitney Friedlander (who observes that throwing a gator "gave new meaning to fast food"), Carrie Gray (who notes "But of course @craigtimes is all over this!"), Robert Fortner (whose answer was "an alligator, and I don't mean a handbag"), Florida-Allergy.com (yeah, that's their handle), Kate Morrissey (who wonders "Maybe he was an undercover Georgia fan?"), David M. Parada (who jokes "I guess the Frosty was out of order yesterday?"), Becky Yerak, Mark Gibbs, Lucia A. Walinchus (who remarks "The Post notes that it was 'only' 3 1/2 ft long" and adds the hashtag #FloridaNBD, Miriam van Ommeren, Julianne R-H (who quips "Gator frosty, coming right up!"), Margo Howard and Ron Casalotti (who jokes "Which makes sense since rival McDonald's was founded by a Kroc (Ray Kroc, that is)"). Shout out to Dan Rosenbaum who guessed "Double Whopper Extra Cheese" and Brian Hyland who guessed "a McNugget." Now that would have been rude.
As for today's question, here it is: Funny or Die just released a "fake TV movie" about what?
Click here to submit your answers to @MuckRack. IMPORTANT: If you choose not to click that link, please include the word "answer" in your tweet so we can find it (the link will automatically do so for you)!
... We'll announce the winners in the next Daily!
Featured journalist: Natalia Cano
Today's spotlight falls on Natalia Cano, a freelance journalist based in Mexico City. Currently a stringer for tge Associated Press, Rolling Stone Mexico, Soundcheck Magazine and radio station Reactor 105.7 FM, Cano has worked as a reporter for 13 years, primarily focused on the culture and entertainment beats but also covering social and political side stories. In the past, Cano's byline has appeared in El Universal newspaper, the Mexican news agency Notimex, on the independent news site Sin Embargo MX, and in work for the NGO Humane Society International (HSI). Check out samplings of her work here, in her Muck Rack portfolio!
Remember: If you also want to be featured here, you should 1) set up your own journalist portfolio 2) get verified and 3) let us know by emailing Kirsten.
Journo job moves for Wednesday
Today's highlights:
Jesús López (at right) has joined 23 ABC News in Bakersfield as a meteorologist. It's his first job weathercasting in English. Read all about it here.
Daniel Dawkins is the newly anointed global editor-in-chief for GamesRadar+. Dawkins previously served as group editor-in-chief of Games UK.
Riley MacLeod is now Kotaku's managing editor in charge of gaming coverage. MacLeod joins from Haywire Magazine, where he was also managing editor.