Mark your calendars for 12:30 p.m. EST/9:30 a.m. PST tomorrow (Thursday)! Join @MuckRack for the August edition of #MuckRackCafe, a live 30-minute Twitter interview with a journalist. Tomorrow, we'll be chatting with Chris Krewson, editor at Billy Penn. Bring your questions for Chris. See you on Twitter at 12:30!
Today in breaking bulletins
"Excuse me, excuse me, pardon me, sorry, pardon me, making my way to the new Earth because this one is trash," resolves Sweet's Chanel Parks, after learning that this planet just outside our solar system is "potentially habitable" (that NPR post alone got 13,000+ shares so far). "Even if mankind could not surpass the speed of light, this trip would only take 9 years round trip. Sign me up," declares Ken Sweet with the Associated Press. "Just gotta say: I really hope that life is discovered on another planet while I am still alive," admits Kurt Soller at Bon Appetit. "Someone send Matthew Mcconaughey to check this out," urges USA Today's Hemal Jhaveri. On the other hand, Proxima b's conditions "could be Earthlike, but they could also be hellish like Venus," which gives pause, but that doesn't stop Matt McKinney from suggesting, "We're calling this Earth 2, right?" Still, in mocking response to the most New York Times-ian headline ever ("One Star Over, a Planet That Might Be Another Earth"), National Geographic's Michael Greshko would like to call your attention to "One Twitter Account Over, a Tweet That Might Be a Subtle NY Times Dig" -- namely this one, by Washington Post's Joel Achenbach: "Huge exoplanet discovery, but it ain't another Earth, sorry!"
Meanwhile, in politics:
In other news worthy of your attention:
Tying it all together, here's Sunny Hundal: "Really don't think we need to take over another planet so we can argue about burkinis, again."
Not so wordless Wednesday
There's always that one office printer that misbehaves, right? Ever wanted to beat the crap out of it, à la Office Space, just for funzies? Well, now there's a bat for that. And in covering the story, the Wall Street Journal did not pass up this prime opportunity for a digital stipple. "WSJ created a GIF stipple of a favorite scene from 'Office Space.' I just died," declares WSJ's own Scott Austin. "This might go on the Mt. Rushmore of @WSJ stipples," concurs colleague Brian Fitzgerald.
Other media news to know:
Sports Illustrated joins forces with Fox Sports for an ad deal aimed at taking on ESPN in the digital realm. "Hard to believe SI is only 10th in the sports category, acc. to comScore. Now it (plus Fox Sports) will be 2nd," notes Jamie Mottram of Gannett and USA Today. This is what happens "when you lose a Don Banks but add two guys yelling at each other about LeBron's clutch gene or whatever," muses Mark Berman.
Gawker may be gone (long live Gawker!), but at Gizmodo, Sophie Kleeman is carrying on its tradition of snark by correctly observing that, wow, yeah, this one New York Times reporter sure likes to yell at brands on Twitter. Huffington Post's Alexander C. Kaufman cheers, "hell yeah @sophiekleeman, keeping the old spirit of Gawker live and well at Gizmodo!"
Because we love "look inside" pieces, here's one onFacebook's (Totally Insane, Unintentionally Gigantic, Hyperpartisan) Political-Media Machine. "Fascinating. You know those weird political websites always showing up on FB. This guy makes $20K/month off one," realizes Stephanie Guzman at Albuquerque Business First, before adding, "Oh and one of them, who lives in Las Cruces, makes $60k/month." Fascinating, indeed.
Question of the day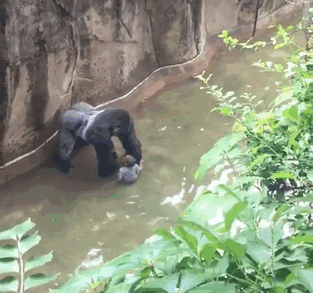 Our last question asked: Why has the Cincinnati Zoo deleted their Twitter account? They had been inundated with Harambe memes, which they found offensive.
Kudos to Gravitate PR for being the very first to get that right! Honorable mentions belong to Craig Pittman (who laudably managed to fit "monkeying around" into his response), Jay Andrew, Martin Berliner, Elena Kay Bosch, Buck Borasky (who adds "If Harambe isn't the @TIME Person of the Year we'll know it's rigged! ;-)"), Mark Gibbs (who dubs memes a "fill in word for crap posted by idiots"), Julia Ellin Kreger, Jackie Hague (who notes "people are bananas"), Natalie Tindall, Carrie Gray and Margo Howard for all answering correctly, as well. Shout outs to Becky Yerak, who guessed that they were hacked--very fortunate for the Zoo that they were not!--and Tyler Gatlin, who guessed "because that's what #Harambe would have wanted."
As for today's question, here it is: People are flocking to Palawan, Philippines to see a giant, 75-pound what? And why are we only seeing it now, after 10 years?
Click here to submit your answers to @MuckRack. IMPORTANT: If you choose not to click that link, please include the word "answer" in your tweet so we can find it (the link will automatically do so for you)!
... We'll announce the winners in the next Daily!