Feeling rusty on your marketing and PR skills? In our second semiweekly informational offering, today's Muck Rack blog offers up insider resources that will put you at the top of your game again!
Today in outrage and elections
"As part of his continued bid to win Most Cretinous Human Ever title, George Zimmerman is auctioning the gun he used to kill Trayvon Martin," explains News24's Lauren Hess. Alison Burdo at the Philadelphia Business Journal reacts, simply, "can he not?" It's a business decision that should place him squarely at "#1 on pariah list," concludes Jerry Mitchell at the Clarion-Ledger. "Does George Zimmerman have some kind of alarm that notifies him when he hasn't done anything awful in a certain amount of days?" wonders Wonkette's Robyn Pennacchia. At the Washington Examiner last night, Kelly Cohen seemed sufficiently fed up: "just wrote about the scum that is george zimmerman at 11pm so yeah bed time." And there were plenty of Trump tie-ins, of course, but we think John Fugelsang was the first to connect those dots: "Gotta admit, when I saw George Zimmerman trending for a second I wondered if Trump had announced his VP pick." Update: It appears as if the listing has been removed, so at least someone is finally exercising good judgment around here.
Speaking of Trump (how many times have we invoked that transition?), The Donald came away from a meeting with Speaker Paul Ryan to say they are "totally committed" to uniting their party. "Asked by @greta who the leader of the GOP is, Trump says Paul Ryan. Such love!" muses Rick Klein at ABC News. Perhaps Ryan's embrace is helped by that new Reuters poll showing a surge in Trump support and the candidate almost even with Hillary Clinton (who just blasted Trump for no position on issue of voting rights). "Weird, I was told last poll was outlier!" snarks Cenk Uygur of The Young Turks. But while we're talking surges, let us remind everyone there's also been one in voter applications. "Yes Latinos are coming for Trump," declares BuzzFeed's Adrian Carrasquillo. At the same time, onetime GOP nominee Mitt Romney is after it again, claiming, "It is disqualifying for a modern-day presidential nominee to refuse to release tax returns to the voters ..." NYT's Trip Gabriel notes that comes from "The voice of experience." Relatedly, though, Timothy L. O'Brien says he's seen Trump's tax records and You Should, Too. In California? Get ready for the Los Angeles kick-off of that campaign's renewed fundraising.
Question of the day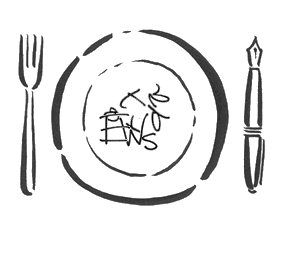 Our last question asked:  On Thursday, a Washington Post reporter will follow through on a pledge to do what? And why? WaPo's Dana Milbank is actually following through on a promise made seven months ago to eat an entire column, newspaper and ink, if Trump won the nomination. Well, that happened, so Milbank is prepping to using these to wash it down.  The only other question that remains: is it safe?
Congratulations to repeat champ Craig Pittman of the Tampa Bay Times for being the very first to get that right! Honorable mentions go out to Maureen MacGregor, Tim Patterson, Liz Seegert, Mark Gibbs (who quips, "Try fava beans and a nice Chianti. Hear them crying, Clarise?") Ron Casalotti (who adds "No word yet if he is going to pick one from column A or one from column B"), Claudine Laforce and Edirin Oputu for all answering correctly, as well.
As for today's question, here it is: State-run media in China are making what accusations of British media, and what was it that likely prompted these sudden allegations?
Click here to submit your answers to @MuckRack. IMPORTANT: If you choose not to click that link, please include the word "answer" in your tweet so we can find it (the link will automatically do so for you)! 
... We'll announce the winners in the next Daily!
Journo job moves for Thursday
There were a flurry of hires at Eterntainment Weekly, if you haven't seen them yet:
Gerrad Hall (at right) joins the LA bureau as staff editor. Hall spent the last five years as part of the two-man team behind The Seven Sees, a website delivering the seven must-see stories in movies, entertainment and pop culture.
Nolan Feeney joins as a staff writer on the music beat. Feeney hails from TIME, where he similarly covered music, culture, breaking news.
Nick Maslow is now digital news editor for the TV Department. Maslow previously served as a staff editor for People Magazine.
Meanwhile, elsewhere on the entertainment beat:
Us Weekly promotes Rachel Abrahamson to senior parenting editor. Abrahamson previously served there as a staff editor on the parenting beat.